The Kfi team met this morning at 7:30 am to serve breakfast to Denver youth experiencing homelessness at the Urban Peak Drop in Center.
We had an incredible spread – arguably the best ever.  In addition to 130 Santiagos breakfast burritos, we served dozens of bananas, oranges, apples and granola bars.  We had 3 varieties of drinks for the kids this morning, including Yoohoo (which was a huge hit and went fast) and Gatorade.  We also had a large supply of bags of chips for the kids to take with them to eat later in the day.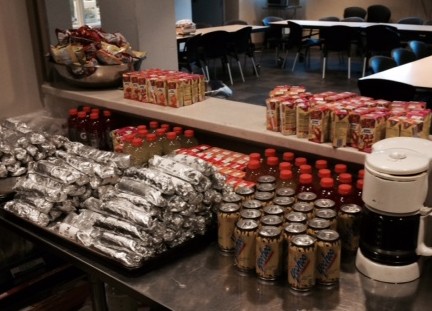 We contributed some items from the Urban Peak wish list as well, including twenty $6 Burger King gift cards (which are used to incentivize kids to take classes and attend meetings) and 2 big boxes of hand warmers. Thank you to everyone who supports the Foundation for making this possible, to Heather for shopping for the food and supplies and Jaci for picking up the burritos.  Our community service year is off to a great start!