My wife was "evaluating" our Kfi team pull-up breaks recently and told me "middle school kids get 1 short recess per day and high school kids get no recess.  Why does the Kfi team need so many recesses each day?"
I think recess is really important for everyone (kids and adults).  Recess increases productivity and happiness.  In the SOC world, we frequently explain to our clients the importance of Control Self-Assessments (CSAs).  CSAs are a way to kick the tires and help ensure that controls are operating effectively throughout the year.  In a similar respect, I think it is important for firms to complete a periodic Level of Play Self-Assessment (LoPSA) to ensure that they are playing hard enough and getting the correct amount of enjoyment out of work.   Here is an example of a Kfi LoPSA:
LoPSA Criteria
Grade / Comment
Extracurricular activities: do members of the team participate in a sufficient amount of intense activities outside of work and are they encouraged to do this?
A+

Yes.  Our  team bikes, skis, snowboards, hunts, runs, plays soccer…and we have a Muay Thai fighter!

Play induced injuries: are members of the team elevating their play outside of work to a level that results in injury?
A+

Yes.  Currently 3 of 12 team members have broken bones resulting from a biking accident, soccer game and ski crash.

Pull-ups: are members of the team doing a sufficient number of pull-ups each day at the Kfi pull-up station?
A+

Yes.  Many members of the team do 1-3 sets of pull-ups and dips at the Kfi pull-up station when they are working in the office.

Happiness: are members of the team happy and healthy?
A+

Yes.  There is a lot of laughter and fun in the office.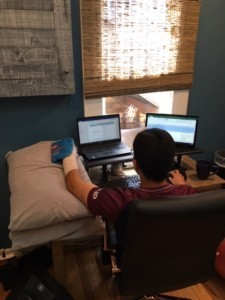 Thanks for reading!